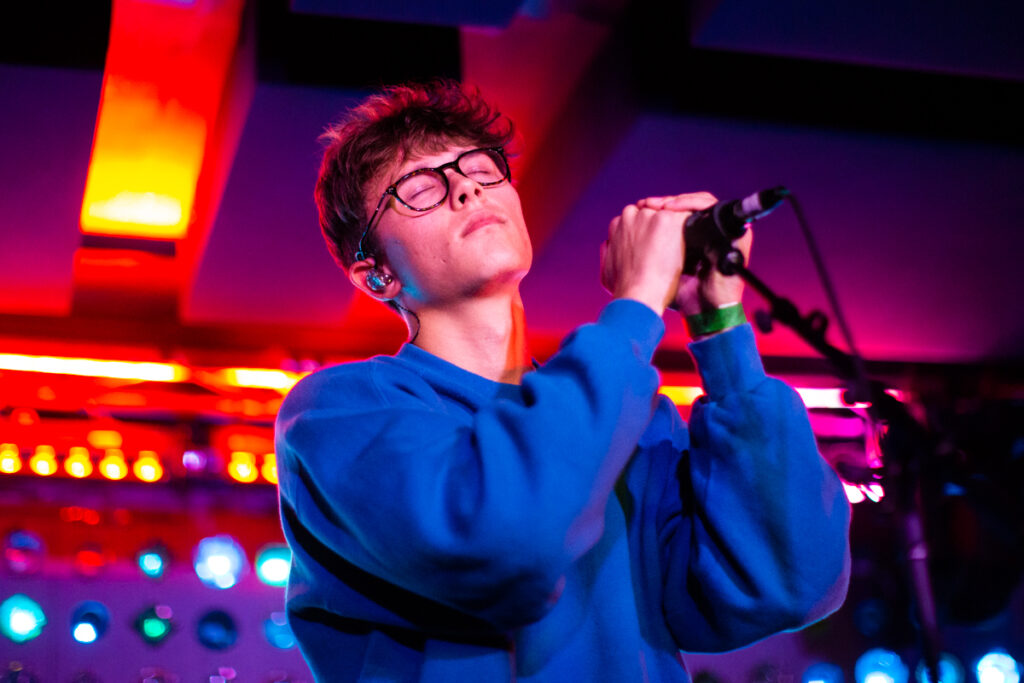 David Kushner realized he might have a hit on his hands in March, when he performed "Daylight" to a packed London venue while opening for Dean Lewis. He'd been teasing the then-unreleased single on TikTok and Instagram for weeks, and "everybody knew the words," he tells Billboard. Fan recordings of Kushner performing the song in concert only fed into the hype: "There's one video [on TikTok] with like 30 million views and 7 million likes."
Riding a wave of social media-fueled anticipation, "Daylight" arrived through Virgin Music on Apr. 14 and quickly became Kushner's commercial breakthrough, debuting at No. 48 on the Billboard Hot 100 on the chart dated April 29 as well as cracking the top 10 of the Billboard Global Excl. U.S. chart. Characterized by Kushner's bellowing vocals and a haunting piano melody, the song's lyrics deal with the self-destructive potential of fulfilling the less savory end of one's desires: "There's darkness in the distance/From the way that I've been livin'," he sings. "But I know I can't resist it."
Kushner, 22, grew up in the Chicago suburb of Barrington, the youngest of five musical siblings, with four sisters that played piano and a brother who played in a prominent local band. Though he always enjoyed singing and took guitar lessons in the fourth grade, it wasn't until he finished high school — and realized that college didn't interest him — that he decided to pursue music as a career. He began taking vocal lessons and learning the guitar again, but he initially struggled to find his voice.
In September 2020, after co-writing with a high school friend and recording with producers he met through social media, he self-distributed a crop of "way more poppy" tracks sung in a higher vocal range — a far cry from the baritone he's become known for since. In fact, it was only when a vocal coach encouraged him to experiment with a lower range that he found his artistic footing. "I entered a new creative dimension in a way," says Kushner, who has since removed those earlier songs from streaming services. "It felt like I stepped from one world into another."
His new singing style was promptly validated: Kushner partnered with Virgin Music in December 2021 after meeting with president Jacqueline Saturn and other executives. Given his TikTok following, Kushner felt that a distributor, rather than a traditional label, was the best route for his career. He then released his 2022 EP, Footprints I Found, through the company, with lead single "Miserable Man" performed in that self-described "lower octave." The austere, acoustic guitar-driven ballad reached No. 23 on Billboard's Bubbling Under Hot 100 chart.
Soon after, Kushner met his manager, Altar MGMT's Brent Shows, through an artist friend he met on TikTok and previously wrote with in Los Angeles, where he moved earlier this year. Kushner originally hired Shows — who also owned a video production company — to create content for his social channels. Before long, Shows was managing Kushner on a part-time basis before making it his full-time gig last fall.
"I was in the room when 'Daylight' was written and watched the entire process from the first melody that was sung to the last submission to [Virgin]," says Shows of working with Kushner. "Just seeing that whole process, you realize the talent the kid has."
vKushner began writing the hit this January while taking a break from a session for another, as-of-yet unreleased track. "I first sang [the melody] in my falsetto voice … it was just a vomit vocal that came out," he says. After writing the chorus ("Oh, I love it and I hate it at the same time/You and I drink the poison from the same vine"), he went home and played it for his girlfriend, who was instantly "stoked," he says. He finished writing the song on his landlord's piano, then recorded a rough demo at home.
Kushner started teasing the "Daylight" chorus online later that month. "It took off a little bit, not anything crazy," he says. It wasn't until he began tagging Hozier in his social media posts about the song — encouraged, in part, by comparisons from fans — that it started to go viral. "Fans were blowing up all my videos because they were agreeing with me," he says. "They were like…'We need this to happen.'"
Though Hozier declined a collaboration, Shows reached out to another key player in the Irish singer-songwriter's rise: Rob Kirwan, who produced Hozier's breakthrough 2014 self-titled album. After hearing the "Daylight" demo, Kirwan agreed to produce it, not yet aware of the song's TikTok virality. "Rob truly just liked the song, and wanted to be a part of the project," says Shows.
Despite an initial release date slated for May 5, the momentum surrounding the song prompted Kushner to push for an earlier release — and Shows, trusting Kushner's instincts, moved the release up to Apr. 14. Its music video arrived the same day, and has since garnered more than 26 million YouTube views.
Shows says they're now focused on breaking the song at radio, with promo tours scheduled for the U.S. and Europe. There have also been talks about putting out an acoustic version, while discussions are progressing with some "pretty large names" for dance remixes of the song, says Shows.
Soon, Kushner will play a few sold-out headlining shows in the U.S. and U.K., followed by an opening slot for Lewis Capaldi, an artist that Kushner says has influenced him in more ways than one. "He's been such an inspiration [to] my songwriting." But he looks to the chart-topper on a more personal level too: "I also have tic disorder," he adds — a diagnosis of Tourette Syndrome, which Capaldi has long addressed, including in a recent Netflix documentary. "A lot of people don't know [that] about me, but I want to be more open about it." Kushner says it first started with a vocal tic when he was a child and has since "progressed" — though when he's focused on music, whether during the recording process or playing a show, his symptoms nearly disappear.
Fans can expect continued openness from Kushner on his debut album — on which he's collaborating with several producers and songwriters, including Kirwan — that he hopes to release later this year. Both Kushner and Shows are content with remaining independent for the moment: "We just love the team that we have… and [Virgin] operates as a full services label for David," says Shows.